TRiFOCAL London – Transforming City FOod hAbits for Life was an initiative led by Resource London - the partnership between WRAP and LWARB - together with Groundwork London. The organisations won a bid with the LIFE programme of the European Commission to deliver the €3.2million initiative in London, which acted as a test bed for other European cities.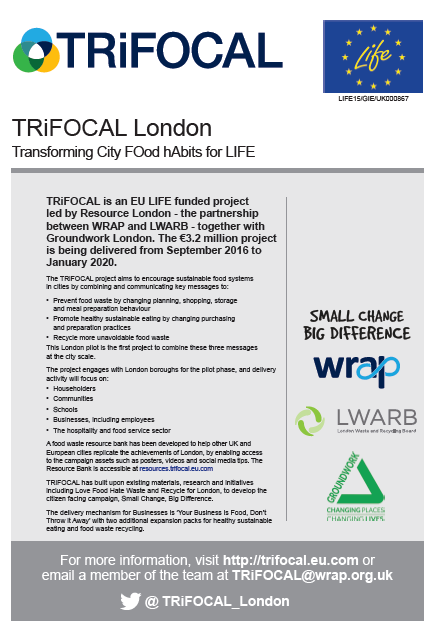 London is one the top 30 mega cities in the world; managing the food system in such complex and growing mega cities is one of the challenges of our age. London also has a number of social and economic challenges to deal with over the coming years including increasing waste management costs, food poverty, childhood obesity and urban density.
Over 8 million tonnes of food is consumed in London per year. The city's population of 8.7 million residents is projected to rise to over 10 million within 20 years, adding more than a million tonnes to consumption every year.
London households throw away an estimated 910,000 tonnes of food each year, of which 640,000 tonnes could have been eaten. Not only is this environmentally damaging but it's a huge waste of money for consumers, local authorities and businesses.
It costs consumers £1.4 billion per year to purchase the food and drink thrown away in London, generating the equivalent of 2.1 million tonnes of CO2 emissions . The cost to London Boroughs of reprocessing/disposing of this food waste is estimated at over £50 million per annum. In London, 23 of the 33 Boroughs currently collect food waste.
Involvement with TRiFOCAL
TRiFOCAL brought together a wide range of audience groups including orgnisations, community groups and schools to communicate with Londoners on food waste prevention, food waste recycling and healthy sustainable eating.
Being part of this innovative project delivered tangible benefits and enabled participants to:
Pioneer the use of combining messaging areas on food waste recycling, food waste prevention and healthy sustainable eating
Gain knowledge and share learning and experience with organisations in the TRiFOCAL network
Receive advice, training and tools from pioneering organisations
Contribute to London, UK and international policy development
Be part of a project that attracted a lot of interest in the UK and EU
Create synergies with other projects/initiatives to build upon the collective impact
Gain enhanced PR with international reach
London Boroughs that were involved in TRiFOCAL:
Bexley
Brent
City of London
Croydon
Hackney
Hounslow
Islington
Kingston
Lambeth
Lewisham
Merton
Richmond
Southwark
Sutton
Tower Hamlets
The TRiFOCAL EU replication cities included:
Barcelona, Spain
Brussels, Belgium
Burgas, Bulgaria
Dublin, Ireland
Ljubljana, Slovenia
Milan, Italy
Oslo, Norway
Sofia, Bulgaria
Växjö, Sweden
Vienna, Austria
Malta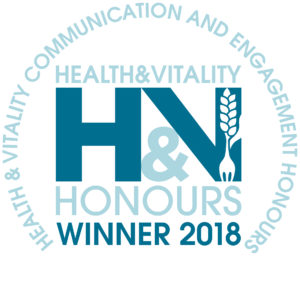 If you would like more information on the legacy of TRiFOCAL, please refer to our legacy plan.
Contact: Katharine Fox, Project Manager, WRAP
Email: TRiFOCAL@wrap.org.uk
Telephone: 01295 819900