TRiFOCAL Wave 3 summary
Following the successful Small Change Big Difference campaign delivery of wave 1 in Hackney, Lambeth and Merton and wave 2 in Tower Hamlets and Bexley, the materials and messages were then evaluated and refined using the TRiFOCAL 'test and learn' approach.
In wave 3, three additional London boroughs; Islington, Hounslow and Sutton, each launched their own localised events to engage citizens in sustainable and healthy eating, food waste prevention and food waste recycling.
Each borough was supported by the WRAP and LWARB teams throughout their campaign planning and delivery. Below is a summary of the activities conducted for each of the participant boroughs for wave 3: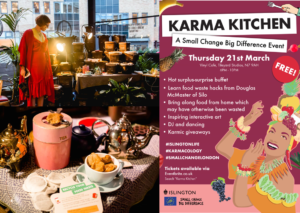 Islington
Islington held an event called "Karma Kitchen" where a hot buffet made of surplus food was served. More than 60 people attended and took part in diverse activities such as:
Speaking session by Doug McMaster, Zero- waste restaurant owner of Silo in Brighton
Artistic installations – such as a banana phone charging station
Tips area for people to share their own sustainable eating or waste prevention top tips
Giveaways
DJ & dancing
Interactive games and competitions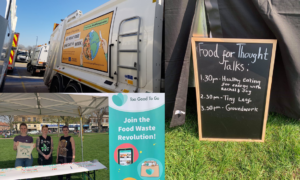 Hounslow
Hounslow organised  an all day festival dedicated to healthy and sustainable eating, food waste prevention, and food waste recycling. Throughout the day, approx 800 people visited the various stalls put up for the occasion. These stalls were manned by the likes of Groundwork London, The Felix Project, Too Good to Go, Kitchen Joy Cookery School, the Source Bulk Foods and other food stands. Hounslow council also had their own Recycling Stall where they handed out small food waste caddies and SCBD tote bags and gave advice about food waste recycling.
Fun activities and giveaways on the day included:
Industry talks by speakers such as nutritionists and food waste distributors 'Too Good To Go'
Top tips and advice
Quizzes
Freebies including branded tote bags, food liners, leaflets and caddy stickers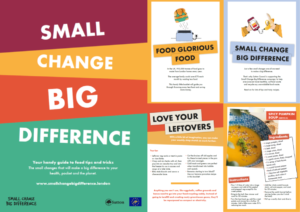 Sutton
Sutton hosted a stall on Sutton High Street using the Small Change Big Difference banners and a smoothie making bike. They have also organised a social media campaign and created a recipe book with hints and tips on the campaign's three messages.
Sign up to our newsletter