TRiFOCAL Wave 2 summary
Following the successful delivery of wave 1 in Hackney, Lambeth and Merton, the materials and messages were refined by undertaking a 'test and learn' approach.
In wave 2, two further London boroughs, Tower Hamlets and Bexley, launched their own localised campaign to engage citizens in sustainable and healthy eating, food waste prevention and food waste recycling.
Using TRiFOCAL's updated material, messaging and insight from the resource bank as well as being supported by the WRAP and LWARB teams, each borough organised campaign activities and advertisements.
Below is a summary of the activities conducted for each of the participant boroughs for wave 2: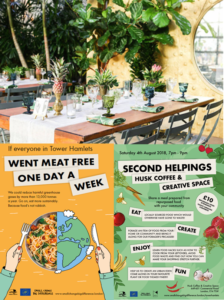 Tower Hamlets
6 posters featured on community information panels
A press advert in council magazine 'Our East End'
Social media advertising on Facebook and Instagram
Attendance at estate days, events in parks
Food Hacks videos showing local residents, community groups and restaurants providing tips on food waste prevention, food waste and home composting
The hacks were made into a book and used as legacy content
Tower Hamlets organised a "Second helping" event
-   Flowers, fruits and vegetables supplied by food cycle near/at use by date
-   Rustic 'River Cottage' on wooden dining table
-   Communal eating area out of wooden benches in U shape
-   Dress code – food and nature
-   Informal chats on the 3 behaviours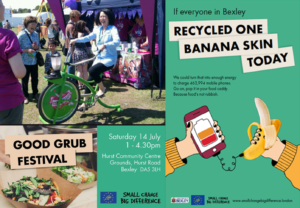 Bexley
Social Media adverts – Twitter, Instagram, Facebook and Snapchat
Campaign posters - on JCD sites and digital screens
200 event posters event
Newspaper adverts
5,000 leaflets, 8,000 recipes cards
350 recipe books, with recipes donated by Bexley residents, placed at their Community Fridge location for people to take away for free.
Bexley Good Grub event which included:
-   Free meal voucher - including pizza, Mexican and healthy/vegan food
-   Cookery demonstrations by Masterchef 2018 contestant
-   Cookery workshops
-   Live music, a smoothie bike and goodie bags with food saver freebies inside
-   A board where people can post their healthy eating/food waste prevention tips
Sign up to our newsletter