WRAP and Cyrus Todiwala OBE, DL join forces to reduce food waste and make a Big Difference
Hospitality and Food Service operators from London came together at Cyrus Todiwala's Café Spice Namaste this week to hear from top chefs and industry experts about how they can dramatically reduce the amount of food they throw away.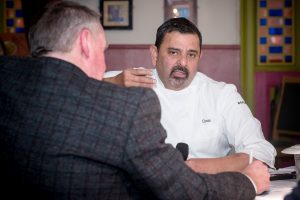 The event 'Small Change Big Difference – the true value of food' was organised by WRAP as part of TRiFOCAL, a London-wide project designed to take action on preventing edible food from going to waste, recycling inedible food, and promote healthy, sustainable eating.
At the event, guests heard from top chefs Alice Gilsenan (founder of Tiny Leaf, London's first and only organic, zero waste, vegetarian restaurant), Silla Bjerrum (chef and consultant) Stephen Scuffell (executive chef for Crown Moran hotels) and Cyrus Todiwala OBE, DL, as they explained how small changes like reviewing and reducing portion sizes and making the most of your ingredients can make a big difference to your bottom line.
Guest were also given an introduction to the 'Your Business is Food, don't throw it away' campaign materials, with advice on how these can help food businesses save money and boost profits by throwing away less food.
And to drive the point home – Cyrus treated guests to an unforgettable lunch made from surplus ingredients including Broken Basmati Khichri and Mixed Vegetal Bhaji using second vegetables.   
Claire Pritchard, London Food Board, who facilitated the event, said: "London's food scene is one of the best things about the capital, but there's always more we can do to reduce food waste. The previous GLA's FoodSave scheme, for example, helped London's small food businesses prevent more than 1200 tonnes of food going to waste, saving these businesses more than £500,000 and the good practice learnt is helping inform this new project. We're making progress every day, and events like this are key to driving behaviour change."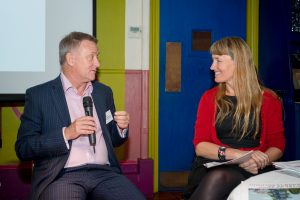 Eleanor Morris, programme manager for WRAP, one of the organisations behind TRiFOCAL and 'Your Business is Food; don't throw it away' said: "Almost 20% of food which the foodservice industry buys each year is thrown away and costs each outlet an estimated £10,000 a year. It's no good for the future, no good for the environment, and certainly no good for the bottom line. But by tracking and taking action on food waste – food operators can make a big difference, as our guest speakers and case studies proved."
To download the free 'Your Business is Food, don't throw it away' tools visit http://www.wrap.org.uk/ybifbusiness 
And to see the videos visit www.wrap.org.uk/ybifvideos
Press Information
For media enquiries please contact:
Lois Spall
William Murray Communications
020 8256 1360
Notes to editors:
TRiFOCAL is an EU funded London-wide project being delivered by WRAP, the London Waste & Recycling Board and Groundwork London, with support from the GLA. This work is also in partnership with WRAP's UK-wide work; Courtauld Commitment 2025 and 'Your Business is Food; don't throw it away'.
Through TRiFOCAL London, three themes have been brought together in a single communications programme to help Londoners, and visitors to the city. The project aims to reduce household food waste, promote healthier sustainable eating and increase the amount of inedible food waste sent for recycling. London is acting as the pilot and findings will be shared with at least 10 EU replication cities.
TRiFOCAL's 'Small Change, Big Difference' campaign is a fun and engaging programme that will run from Autumn 2017 to March 2019. It will focus on nine test boroughs [Bexley, Croydon, Hackney, Hounslow, Islington, Lambeth, Merton, Sutton, Tower Hamlets], providing a unique range of activities to connect with people during their daily lives and bring ideas about sustainable eating to life. The goal is to reach audiences at different points in their day, and across different areas of their life – whether that's while dropping the kids off at school, or at work, when eating out and when shopping or cooking – in order to prompt changes in behaviour at the moments when people are most receptive. http://trifocal.eu.com
'Your Business is Food, don't throw it away' is a campaign to help food businesses save money and boost profits by throwing away less food. It aims to support food businesses with simple steps and handy resources to reduce the amount of food thrown away and help staff learn good practice. The campaign has been developed by WRAP under the Courtauld Commitment 2025. We would like to thank Love Food Hate Waste New South Wales, FoodSave London and Manchester Metropolitan University for their permission to reproduce materials.
FoodSave was funded by the European Regional Development Fund, the London Waste and Recycling Board and the Mayor of London. The project aimed to help small and medium-sized food businesses in London reduce their food waste, put surplus food to good use and dispose of unavoidable food waste more responsibly, through processes such as composting or anaerobic digestion. Moving food waste further up the food waste hierarchy. From October 2013 to March 2015 the project worked with 170 businesses to provide support to help them better manage their food waste, saving 1200t from being thrown away and saving businesses more than £500,000, more information (www.foodsave.org)
First established in 2000, WRAP is a not for profit organisation and registered charity whose vision is a world where resources are used sustainably. WRAP works with governments, businesses and communities to deliver practical solutions to improve resource efficiency. Our mission is to accelerate the move to a sustainable resource-efficient economy through: re-inventing how we design, produce and sell products; re-thinking how we use and consume products; and re-defining what is possible through re-use and recycling.
Sign up to our newsletter
If you would like to work with TRiFOCAL or for more information on the project, please get in touch.
Contact: Katharine Fox, Project Manager, WRAP
Email: TRiFOCAL@wrap.org.uk
Telephone: 01295 819900